Epi-Genius Kids with vitamins A, C, D & E
Protein & vitamins never tasted so good.
The DELICIOUS taste of CREAMY CHOCOLATE and the power of over 20 organic superfoods. That's genius, right? No, it's Purium's Epi-Genius Kids, our newest product for all the little ones in your family! Create a healthy craving with super fruits, super vegan protein, super greens and super vitamins. It tastes so good, you'll wonder how we fit in all the fruits and greens. We don't know who will like it more: you or your kids!
Encourages healthy eating habits by providing 1360mg of fruits and 350mg of veggies
Supports digestive health with 1 capsule of Purium's Biome Medic per serving (exclusive formula of digestive enzymes, and pre- and probiotics)
Provides energy and 8g of protein per serving, with a specially-designed blend of protein
Suggested Use/Ingredients
Suggested Use: Mix 3 Tbsp. with 8-10 oz. of water or non-dairy milk.
Ingredients: Proprietary Organic Vegan Protein Blend (Organic Pea Protein, Organic Hemp Protein), Proprietary Organic Anti-Oxidant Fruit & Berry Blend (Organic Apple, Organic Acerola Extract, Organic Acai, Organic Amla, Organic Black Currant, Organic Blackberry, Organic Blueberry, Organic Lemon Juice Powder, Organic Maqui Berry, Organic Pomegranate Juice Powder , Organic Raspberry, Organic Strawberry, Organic Tart Cherry), Proprietary Functional Fat Blend (Medium Chain Triglycerides Oil, Natural Vitamin E from Sunflower Oil Powder), Proprietary Algae Blend (Organic Spirulina, Organic Chlorella, Algal D (Vegan Vitamin D3)), Organic Guar Gum Soluble Fiber, Proprietary Biome Medic™ Gut Health Blend (Digestive Wheat Germ Extract Powder, Chicory Root Fiber Extract, Fulvic & Humic Acid Blend, Lactospore ® (Bacillus coagulans 225 million CFU)), Proprietary Organic Vegetable Blend (Organic Broccoli, Organic Cabbage, Organic Carrot, Organic Kale, Organic Parsley, Organic Spinach, Organic Sweet Potato), Digezyme ® Enzyme Blend (α-amylase, protease, cellulase, lactase, lipase), Organic Fair Trade Cocoa Powder, Organic Flavoring, Organic Luo Han Guo Berry (Monk Fruit) Extract, Himalayan Pink Salt. DigeZyme ® and Lactospore ® are registered trademarks of Sabinsa Corp.
>>The current prices for the Entire Purium Line as of August 7th, 2023 are Here<<
Label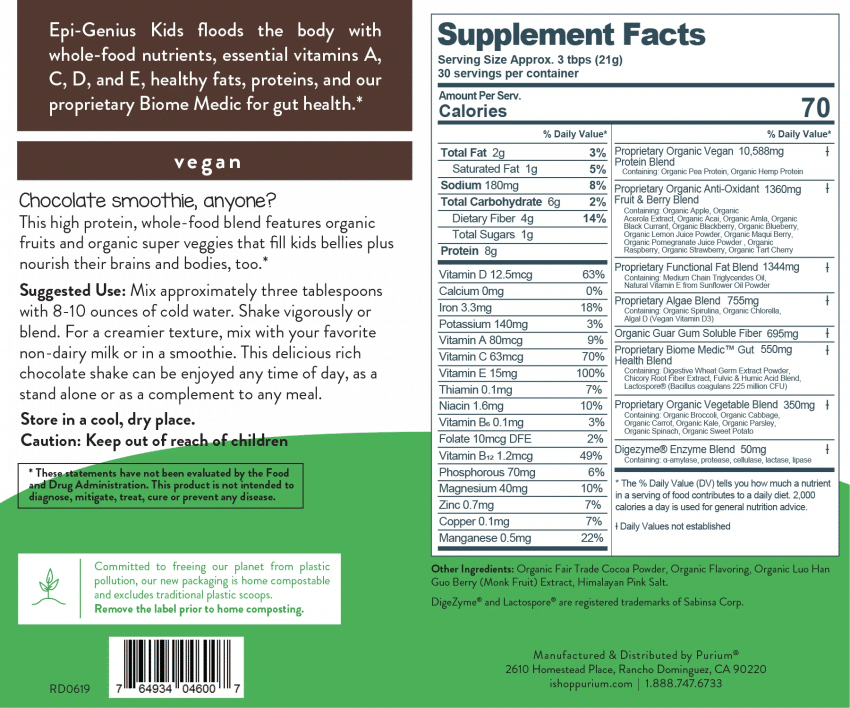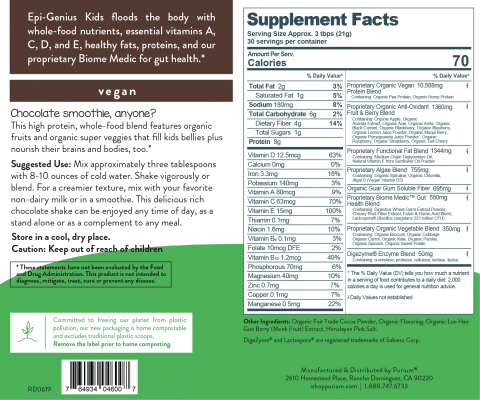 Did You Know?
 

Purium Products are organic and GMO free.
Purium Top Sellers
Let HealthStatus Send You a $50.00 Gift Card